FIRE HAZARD REDUCTION
---
---
The woodlands (as outlined on the map) have been slashed for 'fire hazard reduction' and to stop seeding of the weeds. Plantings (north of the billabong) have also been slashed to reduce competition and stop weeds seeding.

CULVERT WORKS

Boroondara Council contractors works on the culvert have made it much safer by grading the edge and lowering the culvert top.


---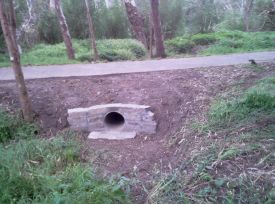 ---


WILDLIFE

In November there was just 1 microbats, a male.The females appear to have gone elsewhere to have their babies.


COMMUNITY WORK DAYS

We weeded the 2008 area and picnic area and planted 12 Austral stork's bill (Pelargonium australe), 50 kidney weed, (Dichondra repens), 10 bidgee widgee (Acaena nova-zealandiae), and 10 goosefoot fishweed (Einadia trigonos).

RIDE-ON SLASHER

We have taken delivery of the Greenfield ride-on thanks to the DEPI 'Bush Guardians' grant. In the one major use so far, it reduced the time of cutting the picnic areas, trail and track verges from 2.5 hours to 35 minutes.

I'm looking forward to being able to keep on top of the grass and weeds in the woodlands.

GUNYAH

The 'Gunyah' is complete and a certificate of completion has been received from City of Boroondara

Seating is still planned.

Thanks to David and his helpers.



THE NEXT COMMUNITY WORK DAYS

FRIDAY 13 DECEMBER 2013
9 a.m. to 1 p.m.

&

FRIDAY 10 JANUARY 2014
9 a.m. to 1 p.m.


Stanley Barker,
Burke Rd. Billabong Committee of Management.
www.vicnet.net.au/~fobrb