LANDCARE / TELSTRA

LANDCARE / TELSTRA The five Telstra/Landcare Australia Ltd. (LAL) groups became seven groups of about 20 Telstra staff between 23 November and 6 December.

The small pile of weeds that I had anticipated became a large pile on the first day, and are now huge piles. The leader on the last day owned a ute and the ute was used to move the weeds as the 2 large wheelie bins weren't keeping up with the weeding.

---

Moving weeds by the ute-full.
---
They cleared weeds in the 2008 area and from Burke Rd. bridge north of the shared path. The groups also planted about 80 plants per day, mostly ground covers.

---

Area weeded & planted by Telstra volunteers.
---
The volunteers all seemed to enjoy their day and LAL are suggesting it may be a regular event next year.

Telstra are also making a substantial donation to the Reserve for hosting the volunteer groups.


COMMUNITY WORK DAYS

In November eleven people attended the work days and weeded in the 2008 and 2011 RMIT areas.

WILDLIFE

The male microbat was resident in Tube 2 on 24 November and there were 7 females in Tube 3. All were very pregnant except for one, which had 2 babies. Gould's wattled bats normally weigh 14 grams but 20 grams when pregnant.

Thirty plus people were at Burke Rd. for a birdwatch and ramble with the Boroondara Biodiversity group and bird guru Bob Winters on Sunday December 8. There were few waterbirds on the almost dry billabong (puddle), but birds of note observed were the eastern yellow robin and grey shrike-thrush.

PLANT NAME OF THE MONTH

Common pratia. - Pratia pedunculata

---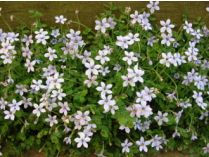 ---
Pratia pedunculata, also known as blue star creeper, is an attractive plant, with small sky-blue starry flowers in great profusion above a mat of dark-green foliage. Pratia is indigenous to the area but a new plant to the reserve. Telstra groups planted 100 pratias.

Pratia - after Charles Prat-Bernon, a midshipman on Freycinet's scientific voyage.
pedunculata - (Latin?) stalk of a flower cluster.

The Dublin (Ireland) garden group website refers to it as a "plant-horror" as it will take over your garden.



THE NEXT COMMUNITY WORK DAY IS

FRIDAY 14 DECEMBER 2012
9 a.m. to 1 p.m.



Stanley Barker,
Burke Rd. Billabong Committee of Management.
www.vicnet.net.au/~fobrb