OUR PLANT NURSERY

Many of the plants planted at Burke Rd. Billabong Reserve have been home grown and the Committee thought it would be of interest to show how the back yard 'nursery' operates.
---

The nursery shelves.
---
The nursery mainly consists of 32 and 60 litre clear plastic storage boxes. These hold 50 or 70 small tubes or 1 or 2 Hyco trays holding 40 plants each. I place cuttings into the tubes filled with potting mix, water them so that they have about 10mm of water in the bottom, put the top on and leave them in indirect sunlight for 4 to 8 weeks. I dip the cuttings into honey as the propagating gel.
---
The results


Rounded noon flower (Disphyma crassifolia) cuttings
New cuttings and after about 8 weeks
---
1990 MIDDLE YARRA CONCEPT PLAN

I was given a copy of the 1990 Middle Yarra Concept Plan a while ago and have now put the relevant sections up on the website. It makes interesting reading, particularly on its 21st anniversary.
WILDLIFE

The grey kangaroo seems to have moved on as the wildlife camera has only taken pictures of moving grass recently. Frogs and waterbirds are enjoying the overflowing river.

COMMUNITY WORK DAYS

In November, our Friday workday weeded the 2008 area and planted about 60 bidgee widgee (Acaena novae-zelandiae), 3 Native pepper cress (Lepidium pseudohyssopifolium) and 5 Fishweed Goosefoot (Einadia trigonos ssp. trigonos).
Constant rain on the Saturday eased before our Sunday workday but raised the river to flood level. The water was flowing strongly over the path near the culvert into the billabong, continuing to rise until it caught up with us in the 2008 area and we had to move to higher ground.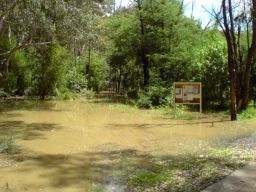 The sign near Chris Cross track surrounded by flood water.
---
THE NEXT COMMUNITY WORKDAYS ARE

FRIDAY 9 DECEMBER 2011
9 a.m. to 1 p.m.



WITH A YEAR END CELEBRATION MORNING 'TEA'

Stanley Barker,
Burke Rd. Billabong Committee of Management.