WATER, WATER EVERYWHERE!

The billabong has filled again with the rain on 29/11, and water was over the bike path. Lots of frog calls, various ducks and waterbirds which haven't been there for years. Carp have been seen in there as well.

BILLABONG WATER LEVEL

David again put his GPS to good use by walking around the water's edge at the billabong so we now have a map of where the water comes to. I have added this map to the website.
---
---
This was a much larger area than I had thought but fits in with the darker green of the River red gums in the aerial photo. The GPS calculated the area at about 1.6 hectares.

IF ONLY I WERE PHOTOGENIC!

The Boroondara Progress Leader had an article on the work I have done, and plans for the Billabong. Thanks to Helen who initiated the article, the Progress Leader, and those who rang to volunteer.
---
---
The article is available at http://progress-leader.whereilive.com.au/news/story/breathing-life-into-a-kew-billabong/

NOVEMBER WORK DAY

Seven volunteers and committee members attended the November workday. We repaired flood damage, where tree guards and weed mats had been washed away. Note: the flooding on 29/11 has taken tree guards away again.
We also planted the last (about 200) of this year's shrubs, grasses and groundcovers into the 2008 and 2009 areas. Plants included Kidney weed (Dichondra repens), a groundcover which will (hopefully) out-compete the Trad and stop it coming back.
---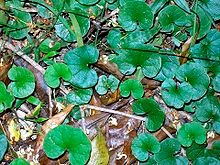 ---
This should fill in all the gaps between the Tussock grass at the bike path & Burke Rd. track junction.
Boroondara Council supplied more mulch and this has been spread around the 'picnic area'

THE NEXT COMMUNITY WORKDAY IS
FRIDAY 10 DECEMBER 2010
9 a.m. to 1 p.m.

Plans for the December work day are to plant some more kangaroo apple on the top slope near Burke Rd., and some ruby salt bush (Einadia nutans) in the 2008/9 areas. There are still plenty of weeds in the 2009 area which we can also work on.

Stanley Barker,
Burke Rd. Billabong Committee of Management.
www.vicnet.net.au/~fobrb