BIRD & GLIDER BOXES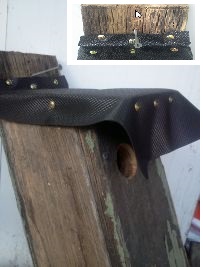 When I decided to install nest boxes, I checked around on the web for designs, and taking into consideration my observations of the batboxes at Wilson reserve, came up with the following variations to the standard designs...

The lid is covered with plastic 'dampcourse' ('Plascourse' is one brand) which acts as a hinge, waterproofs the lid and top of the box, and forms an 'anti-mynah' flap - and is cheaper than hinges! I used button head screws to attach the dampcourse to the lid and backplate.

Because the plastic is not as rigid as a hinge, the lid needs to have some way of keeping it in the correct position; I have used a small screw under the lid which fits inside the box front - an alternative would be a piece of wood that fits neatly inside the box top.

A hint that I picked up on another website is to drill a hole in the top of the back plate for a bullet head nail. Hammer a bullet head nail into the tree at the height you want the box, and then hang the box on the nail while you fasten it to the tree with whatever method you have chosen. I used 75mm screws for fastening. It makes the job much easier and safer.

Five sugar glider boxes and one small parrot box have been installed.

I will update in a few months time.

Stanley Barker
25 September 2013

Update - 26 January 2014.
The nest boxes have only been used by Gould's wattled bats so far, with an unbanded male in the parrot box in December and bat droppings in a glider box.